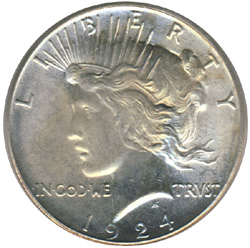 Peace Dollar mintages ranged from a low of 360,649 for the key date issue of the series to a high of more than 50 million. The highest mintages took place early in the series when heavy production was necessary to fulfill the requirements of the Pittman Act.
The Pittman Act had authorized the melting of up to 350 million silver dollars for conversion to bullion and sale to Great Britain. The quantity of 270,232,722 silver dollars which were melted were required to be replaced with newly minted coins produced from the output of American mines. This large quantity was struck for the final year of the Morgan Dollar series and the initial years of the Peace Dollar series until 1928.
The key date of the Peace Dollars series is usually considered to be the 1928 Peace Dollar since it has the lowest mintage. The 1934-S Peace Dollar is also considered to be a key date in mint state. Although over one million coins were produced, the coins saw extensive circulation making choice mint state examples rare.
| Date | Mintage |
| --- | --- |
| 1921 | 1,006,473 |
| 1922 | 51,737,000 |
| 1922-D | 15,063,000 |
| 1922-S | 17,475,000 |
| 1923 | 30,800,000 |
| 1923-D | 6,811,000 |
| 1923-S | 19,020,000 |
| 1924 | 11,811,000 |
| 1924-S | 1,728,000 |
| 1925 | 10,198,000 |
| 1925-S | 1,610,000 |
| | |
| --- | --- |
| 1926 | 1,939,000 |
| 1926-D | 2,348,700 |
| 1926-S | 6,980,000 |
| 1927 | 848,000 |
| 1927-D | 1,268,900 |
| 1927-S | 866,000 |
| 1928 | 360,649 |
| 1928-S | 1,632,000 |
| 1934 | 954,057 |
| 1934-D | 1,569,500 |
| 1934-S | 1,011,000 |
| 1935 | 1,576,000 |
| 1935-S | 1,964,000 |
| 1964-D | unknown |
| 2021 | 199,553 |