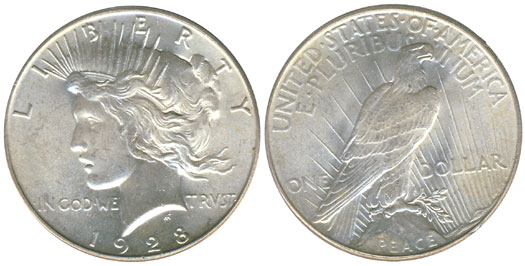 The 1928 Peace Dollar struck at the Philadelphia Mint represents the classic key date coin of the series. At just 360,649 pieces, it boasts the lowest mintage of the series and carries a premium across all grade levels with even well worn pieces selling for hundreds of dollars.
The reason for the low mintage of this issue was the fulfillment of the minting requirements set forth under the Pittman Act. Under the Act, a quantity of 270,232,722 silver dollars had been melted in 1918 and the silver bullion sold to the British. The Act had required the same quantity of silver dollars to be reminted in the following years. Silver dollar production at the Philadelphia Mint in 1928 took place only between April 13 and 20, with the last silver dollars required to be coined under the act struck on the latter date.  A production gap of five years followed, with the next Peace Dollars in the series not produced until 1934.
Overall, the 1928 Peace Dollar is perhaps more available than the mintage would indicate, but its status as a popular key date provides a higher than typical level of demand. More than 300 pieces have been graded MS65 by PCGS and NGC, with only about a dozen pieces graded higher at MS66. One of these finest known specimens sold for $48,875 at an auction held in April 2011.

1928 Peace Dollar Mintage and Specifications
Date: 1928
Mint mark: none (Philadelphia)
Mintage: 360,649
Designer: Anthony de Francisci
Composition: 90% silver, 10% copper
Weight: 26.73 grams
Diameter: 38.1 mm