For the second year of the Peace Dollar series, production would commence at the Denver Mint. This facility had first produced the silver dollar denomination in the previous year for the final year of the Morgan Dollar series.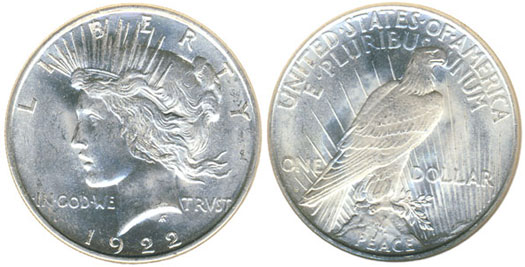 The 1922-D Peace Dollar (Buy on eBay) is generally found well struck, but may often be encountered with die cracks. At the Denver Mint, the silver dollars were produced with higher striking pressure and the dies were often left in use after cracks had begun to develop. In some cases significant cracks can be seen extending in arches over the upper and lower portions of the obverse.
The issue had a total mintage of 15,063,000, by far representing the highest production level at the Denver Mint for the entire series. The issue is considered common even in uncirculated grades. A few hundred examples have even been graded MS66 by the major grading services, but the coin becomes scarce at the next grade level. PCGS has graded only three coins as MS67, while NGC has graded 16 coins at this grade level.
1922-D Peace Dollar Mintage and Specifications
Date: 1922
Mint Mark: D (Denver)
Mintage: 15,063,000
Designer: Anthony de Francisci
Composition: 90% silver, 10% copper
Weight: 26.73 grams
Diameter: 38.1 mm



< 1922 Peace Dollar | 1922-S Peace Dollar >