The San Francisco Mint would commence production of the Peace Dollar for the second year of the series. The coins carried the "S" mint mark on the reverse of the coin near the tail feathers of the eagle. This facility used a lower striking pressure for the silver dollars, resulting in weakly struck coins for the duration of the series.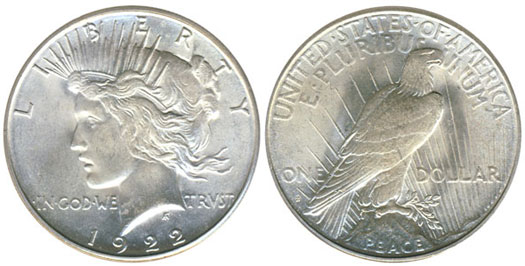 The 1922-S Peace Dollar (Buy on eBay) had a total mintage of 17,475,000 pieces. Despite the relatively high figure, the issue is somewhat scarce in uncirculated condition since much of the original mintage went into circulation.
Common problems with the surviving uncirculated examples include weak strikes resulting in incomplete details at the centers of the coin and excessive bag marks. Although not to the extent of some of the later San Francisco issues, the 1922-S can be difficult to locate in gem grades and higher, particularly with good eye appeal. The major grading services have certified around three hundred pieces each at the MS65 grade level, but fewer than three dozen pieces at MS66, and none higher.
1922-S Peace Dollar Mintage and Specifications
Date: 1922
Mint Mark: S (San Francisco)
Mintage: 17,475,000
Designer: Anthony de Francisci
Composition: 90% silver, 10% copper
Weight: 26.73 grams
Diameter: 38.1 mm



< 1922-D Peace Dollar | 1923 Peace Dollar >