The 1921 Peace Dollar (Buy on eBay) was the first year of issue for the new series of silver dollars. In late December 1921, a total of 1,006,473 Peace Dollars were produced at the Philadelphia Mint. The coins would be released into circulation early the following year.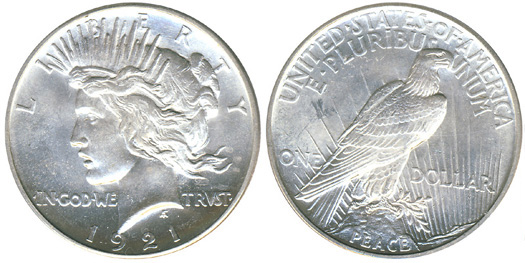 All of the coins were struck in high relief, representing only the third U.S. circulating coin to be struck in the format. The high relief caused difficulties in production since the high pressure required to properly strike the coins resulted in short die life and excessive die breakage. The problem would be addressed by striking the coins at lower pressure to compensate. Although this served to extend die life, the adjustment resulted in most examples being weakly struck. Accordingly, the vast majority of coins encountered will exhibit a lack of detail at the centers, apparent at the hair near Liberty's ear and the feathers on the eagle's chest.
The 1921 Peace Dollar carries a premium across all grade levels, driven by the relatively low mintage and allure of a high relief coin, which is typically considered a separate subtype. A small number of proofs were also struck for the issue with sandblast and satin finishes. Both are extremely rare and the object of intense collector interest.
1921 Peace Dollar Mintage and Specifications
Date: 1921
Mint Mark: none (Philadelphia)
Mintage: 1,006,473
Designer: Anthony de Francisci
Composition: 90% silver, 10% copper
Weight: 26.73 grams
Diameter: 38.1 mm