The 1923-D Peace Dollar (Buy on eBay) had a mintage of 6,811,000 pieces struck at the Denver Mint. After this issue, no additional silver dollars would be produced at the facility until 1926.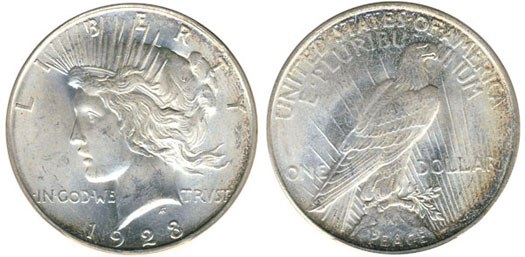 As seen in the previous year, the Denver Mint used a higher striking pressure which resulted in sharply struck coins, but also a greater probability of die cracks. Many examples of this issue may have cracks extending across upper and lower portions of the design on both the obverse and reverse. While these do not impact the grading, some collectors may have a preference for coins with or without the die cracks.
This issue carries a slight premium across uncirculated grades. Despite the ample mintage the survival rate was somewhat lower for this issue at the higher grade levels.
1923-D Peace Dollar Mintage and Specifications
Date: 1923
Mint Mark: D (Denver)
Mintage: 6,811,000
Designer: Anthony de Francisci
Composition: 90% silver, 10% copper
Weight: 26.73 grams
Diameter: 38.1 mm



< 1923 Peace Dollar | 1923-S Peace Dollar >