The 1934-D Peace Dollar (Buy on eBay) represented the final regular issue of the series from the Denver Mint. The facility had previously struck coins for the series in 1922, 1923, 1926, and 1927.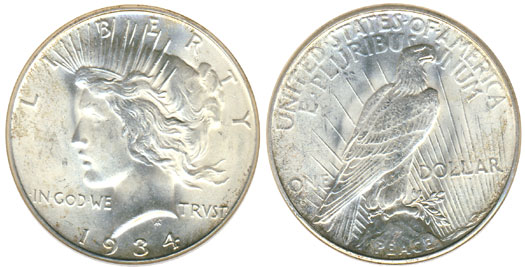 This issue provides a few points of interest for the collector. First, the mint mark is found in two different sizes which appear in slightly different positions on the reverse. Second, there is a doubled obverse variety where many design elements appear doubled including Liberty's forehead, eyelids, nose, lips, and chin, as well as some of the rays within her tiara.
Outside of these varieties, the 1934-D Peace Dollar is one of the scarcer issues of the series. Despite being well produced across a mintage of 1,569,500 pieces, the major grading services show relatively few pieces graded gem and higher. There are about 750 pieces graded MS65, fewer than 100 pieces graded MS66, and four examples graded MS67.
An exceptionally beautiful example of the coin graded PCGS MS67 realized the astounding price of $86,250 at auction in 2009.

1934-D Peace Dollar Mintage and Specifications
Date: 1934
Mint Mark: D (Denver)
Mintage: 1,569,500
Designer: Anthony de Francisci
Composition: 90% silver, 10% copper
Weight: 26.73 grams
Diameter: 38.1 mm



< 1934 Peace Dollar | 1934-S Peace Dollar >