Guide to U.S. Peace Dollars
The Peace Dollar was introduced in 1921 as the successor to the popular Morgan Dollar series. The new design was created to commemorate the restoration of peace following the conclusion of World War I. For the first year of issue, the coins were struck in high relief, which made for a stunning presentation of the design. However, this proved impractical within production and commerce, so the relief was lowered for the remaining years of the series. Notably, Peace Dollars would represent the last silver dollars struck for circulation within the United States.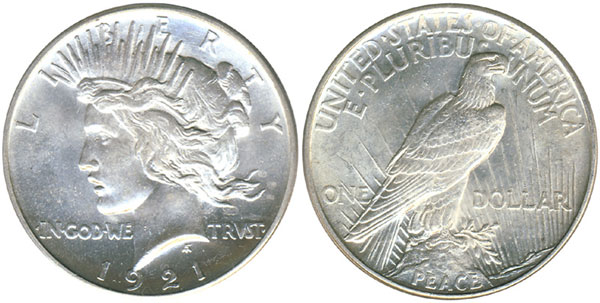 Prominent coin dealer Farran Zerbe conceived the idea of a new design for the silver dollar to commemorate the restoration of peace. The American Numismatic Association helped to build support for the idea and Congress introduced legislation to authorize the new design. Ultimately, legislative action was unnecessary as the previous silver dollar design had been in use for more than 25 years and was eligible for a change under existing law. The Commission of Fine Arts arranged a competition and invited a group of nine sculptors to submit designs. A design created by Italian-American sculptor Anthony de Francisci was unanimously selected as the winner.
Obverse Design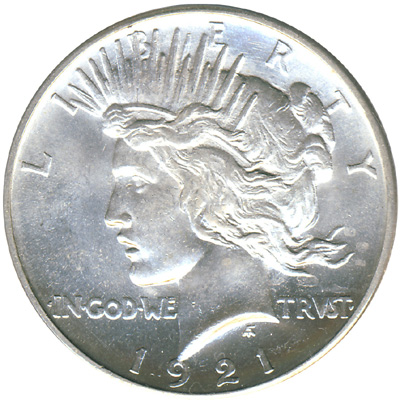 The obverse design of the Peace Dollar features the head of Liberty, facing left. According to Francisci, the image of Liberty was based on his wife Terea Cafarelli. Liberty is shown wearing a radiate crown, with her hair lightly bound and several locks flowing in the wind. The inscription "LIBERTY" appears above, and the date appears below. The motto "IN GOD WE TRUST" is in a straight line, interrupted by Liberty's neck.
Reverse Design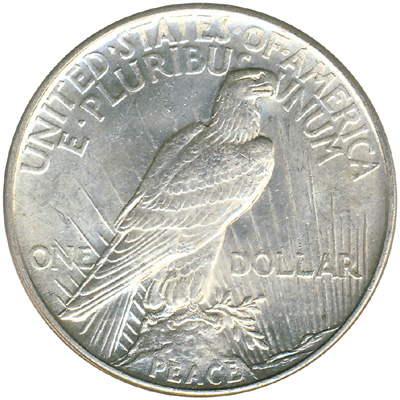 The reverse design of the coin features an eagle perched on a rock, facing right. An olive branch is clasped in the eagle's talons and rays of sunlight emanate from the lower right. The initial design created by Francisci had featured an eagle breaking a sword to symbolize the end of war through the destruction of its implement. Concern that the symbolism might be misinterpreted had prompted the Mint to alter the design. The inscriptions "UNITED STATES OF AMERICA" and "E PLURIBUS UNUM" appear above the eagle in concentric arcs. The word "PEACE" appears at the base of the coin. The denomination ONE DOLLAR appears in a straight line, with the words split by the eagle.
Production
Production levels were generally high for the initial years of the Peace Dollar series, as the United States Mint was required to strike new silver dollars to replace those melted under the Pittman Act. Production came to an abrupt halt for the 1928 Peace Dollar, when the last of the required coins had been produced. No silver dollars would be struck for the following five years. In 1934 and 1935, Peace Dollars were once again produced in small quantities, representing the final two years that silver dollars would be struck and released for circulation.