The 1923-S Peace Dollar (Buy on eBay) represents the first in a series of conditionally challenging issues from the San Francisco Mint. While these coins can be acquired without much difficulty in circulated grades or near gem grades, they become extremely difficult to find and quite expensive at the MS65 grade level or higher.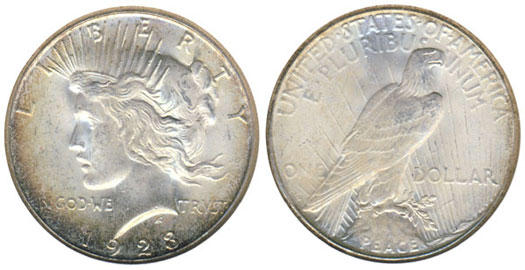 This issue had an original mintage of 19,020,000 pieces. The coins are typically found weakly struck, which was the result of the San Francisco Mint using decreased striking pressure to extend the life of the dies. Other problems with the issue include dull luster and excessive bag marks or abrasions. These factors combine to make it extremely difficult to find a gem or near gem graded example with good eye appeal.
Only around 200 examples have been certified at the MS65 grade level by PCGS and NGC. Only three pieces have been graded as MS66 and just a single example has been certified at MS67 with none higher.
1923-S Peace Dollar Mintage and Specifications
Date: 1923
Mint Mark: S (San Francisco)
Mintage: 19,020,000
Designer: Anthony de Francisci
Composition: 90% silver, 10% copper
Weight: 26.73 grams
Diameter: 38.1 mm



< 1923-D Peace Dollar | 1924 Peace Dollar >