After the higher production of earlier years, mintage levels started to decline for the new series of silver dollars. The 1924 Peace Dollar (Buy on eBay) would have a total mintage of 11,811,000 pieces struck at the Philadelphia Mint. This issue is one of the more common ones of the series, with both circulated and uncirculated pieces widely available.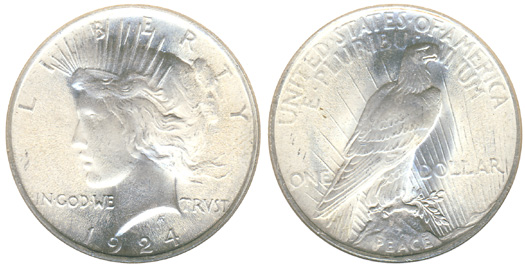 Across the two major grading services PCGS and NGC, there have been more than 30,000 examples certified at the MS64 grade level. This is followed by about 10,000 pieces at MS65, 2,000 pieces at MS66, and just over 100 pieces at MS67. PCGS and NGC have each certified a single example at the lofty MS68 grade level. This is one of only two issues of the series which has an example graded at this level, the other being the 1925 Philadelphia issue.
The PCGS certified example of the 1924 Peace Dollar graded MS68 sold for $54,625 at an auction held in November 2005.
1924 Peace Dollar Mintage and Specifications
Date: 1924
Mint Mark: none (Philadelphia)
Mintage: 11,811,000
Designer: Anthony de Francisci
Composition: 90% silver, 10% copper
Weight: 26.73 grams
Diameter: 38.1 mm



< 1923-S Peace Dollar | 1924-S Peace Dollar >