After to the difficulties experienced in the prior year striking the Peace Dollar in high relief, several experiments were performed in modifying the original design. When none of these proved viable, the coin's designer Anthony de Francisci prepared new models for the coin with reduced relief for use on the 1922 Peace Dollar (Buy on eBay).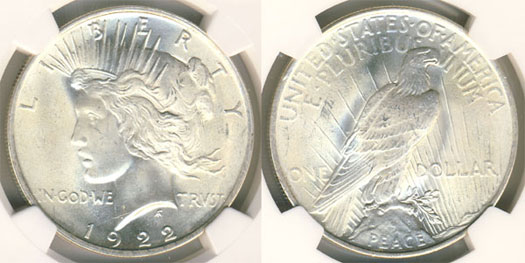 The new models were approved and put into use, enabling large scale production for the new silver dollar. At the time the United States Mint was authorized to produce as many silver dollars as possible to comply with the requirements of the Pittman Act. These factors lead to a mintage of 51,373,000 pieces at the Philadelphia Mint, representing the highest level for the entire series.
The high mintage of the issue and the fact that many were held back in Treasury vaults for decades, leads to an abundance of mint state 1922 Peace Dollars available on the market. Nonetheless, the issue does become conditionally scarce at the MS67 grade level. The major grading services PCGS and NGC have certified around 60 pieces at this grade level with no pieces graded finer.
1922 Peace Dollar Mintage and Specifications
Date: 1922
Mint Mark: none (Philadelphia)
Mintage: 51,737,000
Designer: Anthony de Francisci
Composition: 90% silver, 10% copper
Weight: 26.73 grams
Diameter: 38.1 mm



< 1921 Peace Dollar | 1922-D Peace Dollar >