The Peace Dollar was struck from the standard composition of 90% silver and 10% copper. The coins have a weight of 26.73 grams, diameter of 38.1 mm, and a reeded edge.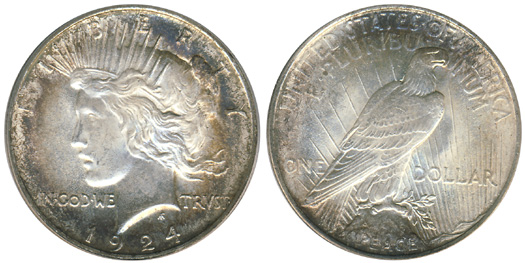 During the series, coins were produced at the Philadelphia, Denver, and San Francisco Mint facilities. The mint mark for the latter two facilities appears on the reverse of the coin near the eagle's tail feathers.
It is worth noting that many of the issues struck at the San Francisco Mint are exceedingly difficult to find in gem grades or higher. The majority will suffer from weak strikes, heavy abrasions, and bag marks, which typically limit the condition. Attractive, high-grade specimens for these issues represent genuine conditional rarities, which are highly valued by collectors.
Peace Dollar Specifications
Dates: 1921 – 1935
Mint Mark: none (Philadelphia), D (Denver), S (San Francisco)
Composition: 90% silver, 10% copper
Weight: 26.73 grams
Diameter: 38.1 mm
Edge: Reeded
Designer: Anthony de Francisci