A new design for the silver dollar was first suggested at the end of World War I to commemorate the restoration of Peace. The American Numismatic Association played a role in building support for the new commemorative peace coin and Congress introduced legislation calling for a new design. Legislative action was not needed, however, as the previous silver dollar design was more than 25 years old and eligible for a change.
A competition was arranged by the Commission of Fine Arts to select a new silver dollar design. From the group of nine famous artists invited to submit designs, the winning entry was created by Anthony de Francisci. The obverse and reverse designs showed some similarities to the Saint Gaudens Double Eagle, but the artist denied these similarities. He indicated that the image of Liberty was based on his 22 year old wife Teresa Cafarelli.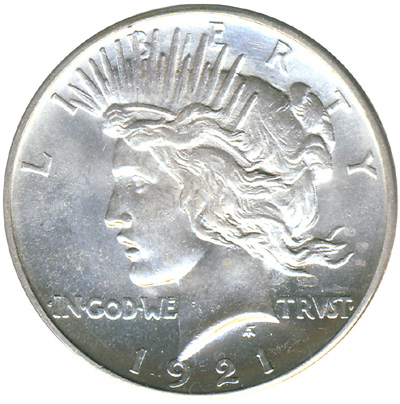 The obverse of the Peace Dollar features the head of Liberty, facing left. Her hair is bound in a bun with several locks loose and flowing backward in the wind. Liberty wears a tiara with rays and has her mouth slightly agape. The word "Liberty" appears above and the date is below. The motto "In God We Trust" is in a straight line, on opposite sides of Liberty's neck.
The reverse of the coin features an eagle perched on a rock, facing right. An olive branch is clasped in the eagle's talons and rays of sunlight emanate from the lower right. The initial design created by de Francisci had featured the eagle breaking a sword to symbolize the end of war through the destruction of its implement. Concern that the symbolism might be misinterpreted prompted the Mint to alter the design. The inscriptions "United States of America" and "E Pluribus Unum" appear above the eagle in concentric arcs. The word "Peace" appears at the base of the coin, marking the only time the motto has appeared on circulating US coinage. The denomination "One Dollar" is in a straight line, split by the eagle.
Only the first year of issue for the Peace Dollar was struck in high relief, while later years of the series had lower relief. There were no other major alterations to the design. Minor changes such as strengthening or redefining the lettering came later in the series, but these changes are not widely noted.