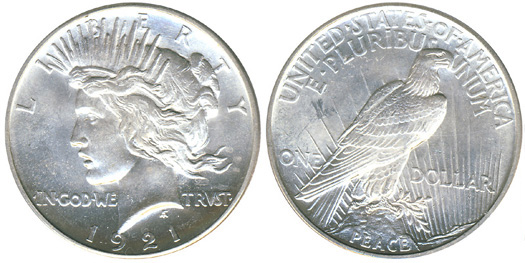 The 1921 Peace Dollar was the first year of issue for the new series of silver dollars. Slightly more than one million coins were produced at the Philadelphia Mint during the period from December 28 to December 31, 1921. The coins would be released into circulation early in the following year.
All of the coins were struck in high relief, representing only the third U.S. circulating coin to be struck in the format. The high relief proved difficult in production at the Philadelphia Mint since the high pressure required to properly strike the coins resulted in short die life and excessive breakage. The problem would be addressed by striking the coins at lower pressure to compensate. Although this served to extend die life, the adjustment resulted in most 1921 Peace Dollars being weakly struck. The vast majority of coins encountered will exhibit a lack of detail at the centers, apparent at the hair near Liberty's ear and the feathers on the eagle's chest.
Despite having one of the lower mintages of the series, the 1921 Peace Dollar remains readily available in grades up to MS64. A portion of the original mintage was held back from circulation and stored in government vaults. Additionally, many pieces released to the public were saved as representatives of the first year for the new design. This results in an ample supply of uncirculated examples remaining available.
Collectors seeking to add this coin to their collection might want to exercise patience and wait for a fully struck example to come along. Although these pieces are in the distinct minority and clearly much more beautiful, they often sell without a premium to average or weakly struck examples.

1921 Peace Dollar Mintage and Specifications
Date: 1921
Mint mark: none (Philadelphia)
Mintage: 1,006,473
Designer: Anthony de Francisci
Composition: 90% silver, 10% copper
Weight: 26.73 grams
Diameter: 38.1 mm